Hey Guys!
This will probably be one of my last Favorites Friday posts because next week I start college and I'm not sure I'll be able to blog every Monday, Wednesday and Friday, but I'll try my best to blog as much as I can! Anyways, in this weeks Favorites Friday I'm going to chat about my absolute favorite bag in the whole wide world! If you're reading my blog for a while you'll probably already know I'm a huge fan of the gorgeous Mulberry bags! And especially of the classic, well known, and gorgeous Alexa. But when I was browsing on there website a saw an other handbag that stole my heart! Do you believe in love at first sight? Because now I do! It's a beauty, a diamond and my new all time favorite bag ever.
Deze Favoriete Vrijdag is waarschijnlijk een van mijn laatste die ik zal doen. Ik start met de hogeschool in een weekje en zal dus geen tijd hebben om elke maandag, woensdag en vrijdag een artikel te schrijven. Natuurlijk zal ik er zoveel mogelijk proberen te schrijven, toch minimum ééntje per week, dat zal me wel zeker lukken! Deze week zal mijn Favoriete Vrijdag gaan over mijn favoriete designer handtas. Als je m'n blog al een tijdje leest zal je waarschijnlijk wel weten dat ik een fanatieke Mulberry fan ben en dan vooral van de bekende, klassieke Alexa tas. Maar toen ik onlangs op de site aan het snuisteren was werd mijn favoriete Alexa van de troon gestoten door een andere erg klassieke, prachtige tas. Het was liefde op het eerste gezicht! Ik denk dat ik er nu dan maar zal moeten in geloven.
It's the Small Bayswater Satchel, a little sister of the normal bayswater handbag. Now you can buy the bag in Oak (picture) Black or Chocolate on the official Mulberry site. It has an adjustable leather shoulder strap, one internal zip pocket, two fixed short leather handles and brushed leather interior.
Het is de Kleine Bayswater Satchel, deze tas heeft ook een grote zus, genaamd de Bayswater handbag. Je kan hem krijgen in zwart, oak (foto) en chocolade op de officiele site van Mulberry. Deze tas heeft een aanpasbare leren shouder riem, binnen-in een apart vakje met rits, twee leren handvatten en leren binnenkant.
This lovely bag is of course not the cheapest bag, you pay for very nice quality but also for the name. I really want this beauty, I'm saving and saving so hopefully I'll have enough money to buy it around my Birthday. It's a bag you'll have your whole life and even pass it on the your own daughter!
Deze magnifieke tas is natuurlijk niet de goedkoopste, je betaald voor goeie kwaliteit maar ook voor de naam. Ik hoop deze diamant ooit in mijn bezit te hebben, ik ben aan het sparen en hopelijk zal ik ze kunnen kopen rond mijn verjaardag. Deze tas zal je je hele leven hebben en zelfs kunnen doorgeven aan je dochter.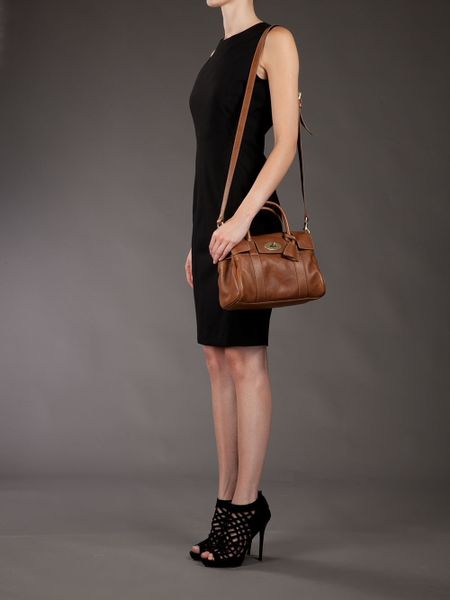 I'll definitely blog when I get this bag! Hope you liked this post, if you have any requests let me know in a comment, please follow on GFC or Bloglovin, thank you so much for reading!
Ik zal zeker een blogpost doen als ik deze tas koop! Als je een artikel aanvraag wilt doen kan dit in de commentaren box, als je wil kan je altijd volgen via GFC of Bloglovin.
* First 2 Pictures are from the official Mulberry site